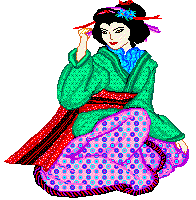 ---
Kundalini or the Serpent Power is located at the base of the spine. In our practice of yoga we learn to lift this dormant energy up the spine to the higher centers of spiritual awareness along the cerebro-spinal axis through the practice of pranayama, life energy control, techniques.By withdrawing attention from the five senses we concentrate at the ajna chakra or spiritual eye located at the mid-spot between the eyebrows,"doorway to the infinite."
---
Don't miss my totally cool Links
Try out these these beneficial yoga positions.
Instruction on Yoga
Yoga Products and Videos
Breathing Techniques
Meet the Masters
Books,Videos and More!
The Cosmic Connection
New and used children's books
Business Information. Get the facts.
Free Information
Original Lyrics
Brief Introduction to Yoga
The Power of Sound
AUM : The Inner Music
Direct Online Global Communication
---
Steve Pollastrini
stevp@gte.net
Thousand Oaks, CA 93010
United States
---

You are visitor number:

Thank you for visiting.